Self care routine for cold & cough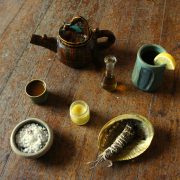 This is the third day I am stuck in the house because of this nasty cold that I have been fighting.
It seems that is getting better, at least just enough so that I can get out of bed and spend some time writing a post.
Even though I almost went crazy laying in bed all day, I know it's exactly what my body needed.. I have been running around like a madwoman the whole month, without taking a day off, not really eating what I would like to or sleeping as much I have to.
I want to make it clear however that I am not complaining.  This is the life I chose for myself and I am immensely grateful for it, and I embrace the exhaustion that comes with these hectic periods, as I know its also part of the path I choose.
But.
I know that it can sometimes be too much for my body, and it rightfully reacts every holiday season! My immune system gets kind of tired and backs out on me, just long enough to remind me that I have to slow down. And luckily it usually does this in a timely manner! As soon as I finished and sent all the orders, I started having the first cold symptoms. The morning after I woke up feeling like I was hit by a truck!
So I took these last 3 days to rest and look after myself. And even though I secretly enjoyed all the pampering from my partner who made me tons of soup and gave me rubs, I can't wait to get out of the house!
Since I know most people are coming down with a cold during this time, I thought I 'd share my self care routine to deal with this and how I speed up my recovery by employing natural remedies.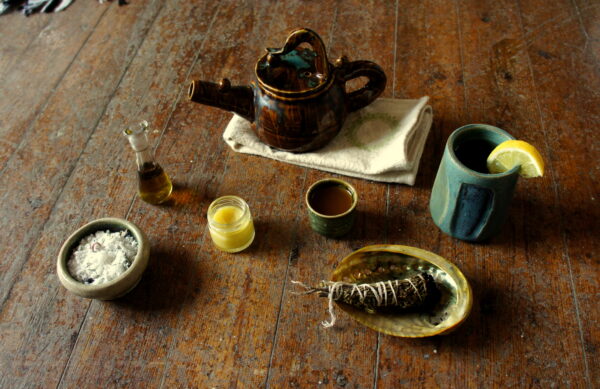 Herbal Teas with Oregano, Thyme, Rosemary, Sage, Mint, Echinacea, Hyssop
I am having approximately 1 litre of this tea per day. Best way to make it in order to preserve the herbs' properties is to boil 1L of water, add 1 handful of herbs, turn the heat off and let it with the lid closed for 15 mins before drinking it. The longer you steep the herbs, the more potent your infusion is. However, be careful not to overheat and destroy their properties. I only boil the water before adding the herbs.
I used expectorant&decongestant herbs, as I have chest congestion and productive cough, immunostimulant herbs to boost my immune system, as well as cooling herbs to help drop high temperature.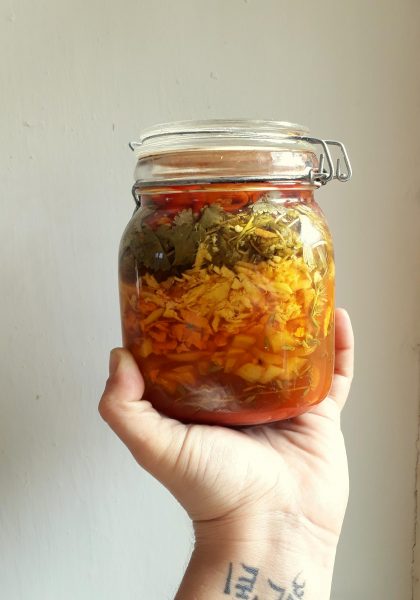 Fire Cider Oxymel at least 6 shots a day
There's many recipes online, find the one that is more suitable for you and use fresh, organic and seasonal ingredients that preferably grow where you live.
I used local herbs and spices, such as cilantro, parsley, thyme, oregano, cayenne pepper, chilli pepper, nettle, calendula, onion, garlic with the exception of turmeric and ginger, as their properties are just too good to miss.
Hopefully I will manage to grow these two here soon.
Sage tincture for gargles & throat spraying, as well as back & chest rubs.
Sage is a powerful antibacterial, decongestant, expectorant and a toner.
Need I say more?
Chest and back rub with Easy Breathing Cold and Flu Relief Salve 
Hot Toddy (my version)
2/3 cup of the herbal tea above (any tea or just plain water is fine)
1/3 cup brandy (you can also use whiskey)
1 tbsp of raw honey
juice from half a lemon
1 thumb of ginger
1 cinnamon stick
Add brandy, ginger and cinnamon to a pot and boil for a couple of minutes. Reduce the heat and simmer for a few minutes. Add the herbal tea and once it cools down a bit, add honey and lemon juice.
Herbal Foot Soak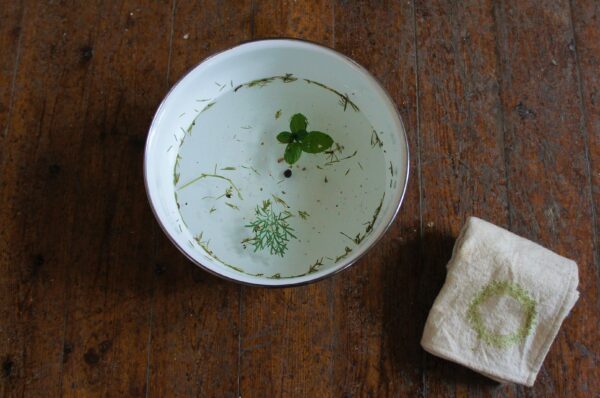 Every night with a cup of hot toddy!
This helps to relieve congestion, detox the body and provide an overall relaxing feeling
You can use a handful of any sea salt you like, hot water and dried herbs or a few drops of oregano or eucalyptus or clary sage or rosemary essential oil.
I used what I had ready, which was the foot soak mix from the Forest Bathing self care set, 
Purifying the space by diffusing essential oils (eucalyptus, juniper, tea tree, clary sage, rosemary) or burning sacred smoke stick.
This is what I do more or less when I am fighting a common cold. I also spend a loooot of time in bed sleeping to allow my body to heal, take high amounts of vitamin C foods to support my immune system and drink loads and loads of water to help flush toxins out.
Hope you enjoyed reading this, and that you got some inspiration to make your own simple herbal remedies!
Have a lovely holiday season everyone 🙂
Most of the remedies described are not suitable during pregnancy and for children. If you have any chronic or recurring conditions, seek your doctor's advice before using any herbs or essential oils. The information provided here is for informational purposes only. It is not intended to be a substitute for professional medical advice, diagnosis or treatment. Always seek the advice of your physician or other qualified health care provider with any questions you may have regarding a medical condition or treatment and before undertaking a new health care regimen, and never disregard professional medical advice or delay in seeking it because of something you have read on this website.